Avail The Most Comfortable Range Of Foam Pillows, Memory Foam Pillows etc From Us..
About UsSweven Impex
is founded by
Mr. Parag
(our Proprietor) recently with a purpose of enhancing the availability of quality pillows in the market. As a
trader, importer
and
exporter
, we are working in a direction to meet our aspirations and goals with time. Our aim is to become the first preference of customers that provides Pillows for residential, hotels, healthcare and other purposes. Our product portfolio consists of items such as
Back Pillows, Foam Pillows, Memory Foam Pillows, Neck Pillows, Shredded Foam Pillows and Orthopedic Pillows.
These items are specifically designed by our trustworthy vendors to support and serve the customers who require special support & comfort. Each item procured & served by us is in accordance to our customers expectations and needs.
With the constant supply of these international quality Pillows, we are attaining success in the industry. Our brand name, Sweven, is gaining huge popularity as many orthopedic doctors are also recommending our products to their patients. By conveniently maintaining the easy availability of such valuable products, we seek to create a successful future of our company.
Customer Satisfaction
For us, customers and their satisfaction is our major priority. To serve them the finest & most reliable quality of products, we are procuring from renowned manufacturers from the industry. We understand our customers, their needs and expectations from us; thus, all steps taken by us are in a direction to enhance their experience through our products & services.
The major tools we use for ensuring customers' satisfaction include quality control, packaging, shipment network and cost-effective prices. For our customers, we are always ready to go one mile ahead. Besides that our each offered item including
Neck Pillows, Shredded Foam Pillows, Back Pillows and Orthopedic Pillows
is manufactured by quality focused companies, we at our end, also check these products for shape, comfort, finishing, etc.
Goals to Achieve Success
While pursuing ultimate level of success in the trading business, we have many short & long term goals; such as:
To widen our vendor/customer base
To enhance our services
To expand our business presence

To establish many more branches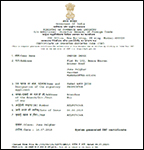 Get in touch with us